Attorney Profiles
MICHAEL R. PHEGLEY

Attorney at Law
Court Commissioner

mphegley@racinelegal.com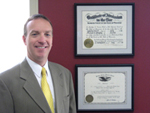 Biography:
Michael Phegley graduated from Marquette University Law School in 1988. He is an experienced litigator having devoted his legal career to representing clients on a daily basis before various courts, judges and commissioners. Attorney Phegley primarily represents clients in Family Court matters. Areas of specialty include divorce, custody and placement, grandparent rights, guardianship issues and termination of parental rights. He served as a court appointed guardian ad litem for Racine County for ten years between 1993 and 2002 representing children in family court (divorce and custody), juvenile court (abuse and neglect) as well as adults in various probate matters.

Attorney Phegley also continues to practice in the areas of Criminal Law and Employment Law. He began his career primarily as a criminal defense attorney and has tried over 35 cases before a jury. He also has extensive experience in the area of Labor Relations and Employment Law having previously served as labor relations counsel for employers working with the United Food and Commercial Workers Union. In addition, he has represented individuals in employment disputes in conjunction with their union as well as employees in non-union settings.

As an experienced litigator, Attorney Phegley knows the value and benefit of effective negotiation and the need to resolve matters short of trial. He is a certified mediator and previously served on the Alternative Dispute Resolution Committee for the State Bar of Wisconsin. In addition to his private law practice, Attorney Phegley serves as the Municipal Judge for the Village of Mount Pleasant, as a Judicial Court Commissioner for Racine County and as an Associate Professor of Law, Department of Business, at Carthage College in Kenosha.
Areas of Practice:
Family :
Divorce, Custody, Placement, Grandparent Rights, Legal Guardianship Criminal :
Felonies, Misdemeanors, Felony Drunk Driving
Juvenile Court :
Delinquencies, Guardianships, Termination of Parental Rights, CHIPS/JIPS (Children/Juveniles in Need of Protection and Services)
Traffic :
Drunk Driving, Speeding, Suspensions/Revocations, Restoration of Driving Privileges
Probate :
Protective Placement, Guardianships, Wills, Powers of Attorney
Labor and Employment :
Employee Rights, Fair Representation, Dispute Resolution, Unemployment Compensation
Bar Admissions:
State Bar of Wisconsin, 1988
United States District Court, Eastern District of Wisconsin, 1988
Classes and Seminars Taught:
Carthage College, Kenosha, WI
Legal Environment of Business, Business Law for Accountants, Mock Trial

Milwaukee Bar Association
Grandparent Rights and Child Advocacy

State Bar of Wisconsin Winter Bar Conference
Negotiation Techniques in Family Law (Panel Speaker)

Racine/Kenosha County Legal Secretaries' Association
Employment Discrimination and Fair Employment Law

Racine County Human Services Department
Court System and Juvenile Justice Code

Racine Unified School District
Instructor, Student Peer Mediation Training Program
Education:
Marquette University Law School
Juris Doctor, 1988

University of Wisconsin-Parkside
B.S. Labor & Industrial Relations, 1984
Memberships and Affiliations:
State Bar of Wisconsin
Former Member, Alternative Dispute Resolution Committee

Racine County Bar Association
President, 2002-2003
Board of Governors, 1998-2004

Phi Alpha Delta Legal Fraternity
Community Service and Board Membership :
University of Wisconsin-Parkside Alumni Association
President, 2008-2011
Vice President, 2004-2008
Board of Directors, 2002-2011

Saint Catherine's High School
Vice Chair, 2009-2011
Board of Directors, 2005-2011

Racine Council on Alcohol and Other Drug Abuse (nka FOCUS)
President, 2004-2007
Board of Directors, 2001-2007

Youth as Resources
Board of Directors, 2005-2006

Civil Legal Services of Racine County, Inc.
Vice President, 1997-1998
Board of Directors, 1993-1998

Conflict Resolution Center of Racine County, Inc.
Vice President, 1993-1996
Board of Directors, 1990-1996
Community Service Activities :
Wisconsin High School Mock Trial Tournament
Judge, 1996 - Present
Team Coach, Saint Catherine's High School, 1992 - 1995

Racine County Law Day Program
Committee member, 1994 - Present

Marquette University Law School Alumni Career Assistance Network
Participant/Mentor, 2004 - Present

Conflict Resolution Center of Racine County, Inc.
Mediator, 1985 - 2006

Racine County Circuit Court Security Committee
Member, 2002 - 2006

Racine County Circuit Court Video Conferencing Committee
Member, 1994 - 1996